Company Overview
Terminal Systems International (TSI) is a privately-held company specializing in conceiving, marketing, installing and maintaining information systems for the airport industry. TSI was first incorporated in June of 1996. The company was co-founded by Dale Lemke and David Reid. With Dale's marketing experience and David Reid's experience in product development, we have developed and delivered supreme, state-of-the-art airport systems.
At our incorporation, we made a commitment to make our customers' satisfaction our number one priority. TSI is committed to strong customer relationships. We listen to our clients' needs and relate their requirements to the direction of our products.
Since TSI's entry into the market, success has been demonstrated in over 40 airports around the globe. With an expanding satisfied customer base, we continue developing our information systems to meet the needs of each airport we serve.
Green solutions: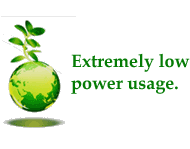 TSI's green solutions reduce power consumption and operating costs, which benefit the environment and your bottom line.